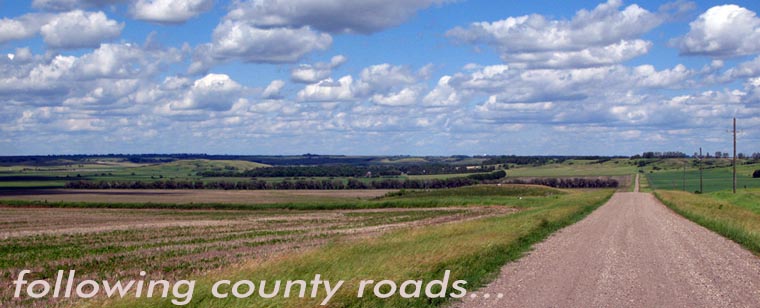 Enjoy awesome vistas of wide open skies and bountiful fields on excursions to near-by towns.
As a rule, North Dakota roads do not meander. You can't get lost for long on quiet, beautiful county roads. For detailed county maps including all gravel roads please visit the ND Dept. of Transportation or click: for Griggs County or for Steele County. To have these maps printed out same day in their original large format (30x18in.) the Great Plains Directory Service of Jamestown, North Dakota offered to print each map for $5.00.
Call them at 701-251-1612.
Towns to visit on your excursions could be:
| City | From Oscar-Zero | Features |
| --- | --- | --- |
| Binford | 20 minutes northwest | feisty village: bar and cafe |
| Sibley | 30 minutes | lakeside resort: bar & restaurant |
| Cooperstown | 4 minutes south | historic courthouse: restarurants |
| Devils Lake | 1 hour northwest | walleye, gambling, restaurants |
| Luverne | 30 minutes | great bar/restaurant |
| Finley | 20 minutes east | great bar and cafe |
| Hope | 30 miles | Steele County Museum & folksy cafe |
| Hannaford | 25 minutes south | great bowling alley & cafe |
| Jamestown | 1 hour southwest | thirty-foot cement bison & restaurants |
| McVille | 45 minutes north | great fishing & restaurant |
| Sharon | 30min. east | Smokie's bar for food too |